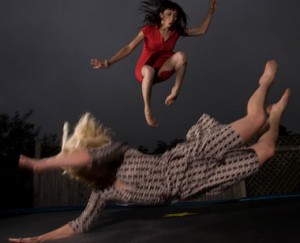 As a movement educator (teacher of contemporary dance technique, dance improvisation, composition, and body/mind practices) for 20 years, I give priority to the specific needs of the individual student. By combining essential core strengthening and movement improvisation with contemporary modern dance,  I impart a strong technical foundation as well as encourage dancers to discover and develop their own individual bodyvoice. My goal is to facilitate a heightened awareness of the physical self in movement and to inspire new movement ideas by focusing on the connections between the physical body & mind and current cultural & temporal issues.  I create safe environments in which students are encouraged to take risks while exploring spontaneity, originality, and inspiration.
Raised in New York City by a ballet dancer and opera singer, I received my early dance training on scholarship at the New York School of Ballet.  Later I earned a BA degree in Theater and Dance from University of the Pacific and my MFA in performance & choreography from California Institute of the Arts.
In between and since I have studied dance and been influenced by teachers Lori Bryhni, Jeremy Nelson, Rebecca Bobele, David Dorfman, Joe Goode, Donna Uchizono, Rebecca Hilton, and Jess Curtis. While at UOP I also studied Dance and Music Therapy which lead me to Laban/Bartenieff Movement Analysis and Body-Mind Centering.  I have also studied Anatomy and Applied Kinesiology with Jean-Claude West and Irene Dowd, Alexander Technique & Klein Technique, and have been certified/teaching Pilates and Gyrotonic™.
My teaching experiences include Hunter College (CUNY), California State Summer School for the Arts, California Institute of the Arts, Dance New Amsterdam(NYC), Pasadena Dance Theater, Roco Dance and Fitness,  Shawl-Anderson Dance Center, University of the Pacific, Modesto Junior College, Columbia Community College, CDEA, ACDF, and ODC School.  Currently, I am a Director/Choreographer adjucnt for A.C.T. Conservatory's MFA Program.


My studio, Core Contact, offers body/mind classes, workshops and private training, as well as contemporary modern dance for elementary through high school school students and creative movement for young children.
 In addition I direct an after school Theater Program (BCAST) for the Bolinas-Stinson Beach School.





.